I Sold My Blog of Medium Stories for $395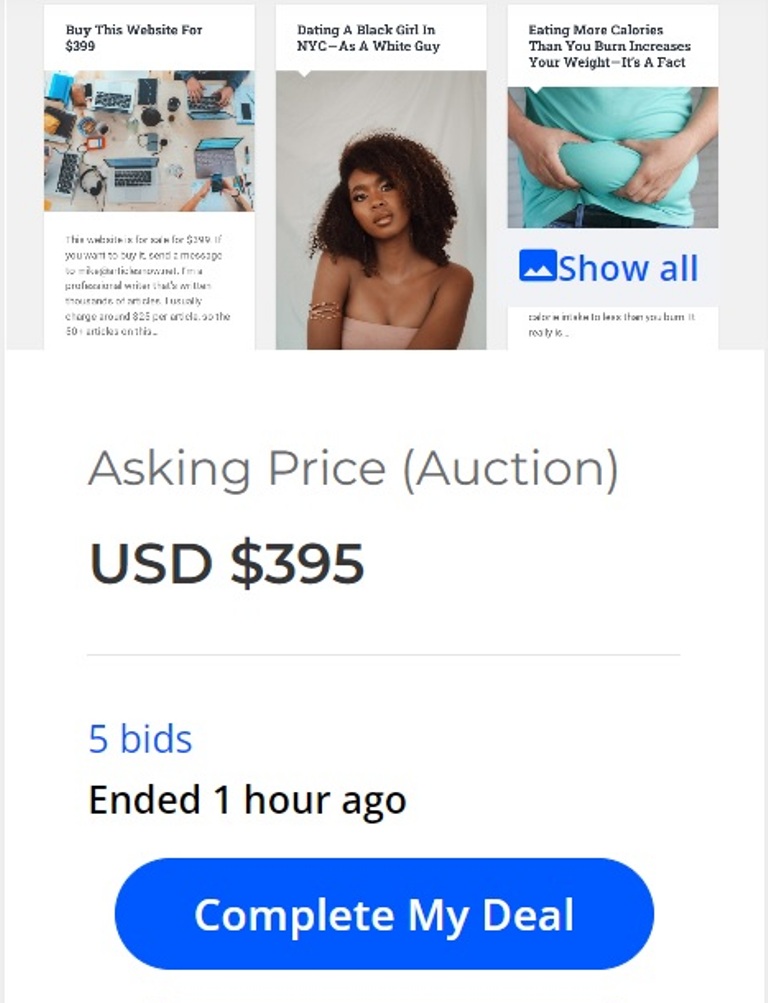 I previously wrote about how I deleted 207 stories from Medium. They weren't earning any money, so there was no point in keeping them there.
I moved them to two separate blogs and have just sold one as a starter site for $395. They were a pretty random mixture of articles and I didn't want to spend much time on them. My focus is on the other blog which is a better niche for me — Side Hustle Monkey.
I listed the site on flippa.com and it sold in just 3 days. That was much faster than I was expecting. I think the price is pretty good as well. I had originally listed it as an auction with a BIN (buy it now) price of $495. I got 5 bids on the auction in the first couple of days, so I was confident it would sell.
On day 3, someone reached out to me and offered $395 for the site. I accepted the offer and ended the auction.
The site had 102 articles on it, so they sold for roughly $4 per article. That doesn't sound much, but they weren't earning any money on Medium. I've earned almost $8,000 writing on Medium in the last year and a half, so the $395 is a nice bonus on top of that.
Of course, there were fees to deduct that. A $39 listing fee, a $39 selling commission fee, and a $20 escrow fee (as I'm not in the US). So that left me with $297.
It also cost me $33 to set up the site, so the profit is $264. Was it worth the work? Just about. If I hadn't sold them they would have been a distraction. I hate distractions, so now I can fully focus on my other projects.
I previously wrote about how I set the blog up for just $33, so be sure to check out that article if you'd like to do something similar.
The whole process was fairly simple:
Buy a domain and hosting from Bluehost. The total cost was $33.
Move stories from Medium to the new website. See How to Easily Copy Your Medium Articles to a WordPress Website.
Share some articles on social media and appropriate forums to get some traffic.
Apply for Google AdSense. This part is not essential, but being accepted for AdSense will help the site sell.
Of course, there is no guarantee that your site will sell if you do this. If your articles are mostly in one niche, you might be better off keeping the site and generating some income. This will take some time but might be worth it in the longer term.
I've also started a travel blog that has just been accepted for AdSense. It's earned around $1 a day for the last few days. This is a long-term project for me. My last travel blog sold for $25,000 and made me a total of $60,000 over three years. I'm hoping to replicate that success.
If you're interested in traveling, you can follow us on our travels at 2GoTraveling.com. We've spent the last three months in Hungary, Croatia, Montenegro, and Bosnia & Herzegovina.
Mostar has been our favorite place so far. We've spent a total of 4 weeks there.
Later this week we're headed back to Croatia and then to Slovenia, Germany, Poland, and Turkey. After that, we'll head to Asia.